Hi everyone! My next children's picture book, Ten Magic Butterflies, hits the shelves February 13th, 2018 –  and is available for pre-order NOW! To celebrate, I'm going to sign some autographs…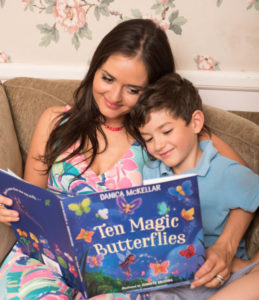 *Pre-order Ten Magic Butterflies* and be one of at least 20 winners each month of a personalized autographed nameplate sticker for your book when it gets released in February! And if you Pre-order 3 or more copies, you are guaranteed to win a personalized autograph, and you'll also get a signed "magic butterfly"!*
Here's how to enter:
1. Pre-order Ten Magic Butterflies from Amazon, Barnes & Noble, Books A Million, Powells, or any other online book retailer from now through Feb 12th.
2. Take a photo (or screen grab) of your order confirmation – it might look something like this:

3. Email the photo of the order confirmation along with your full name and mailing address to: contact@mckellarmath.com
4. You will be contacted in mid/late February if you are a winner, and after you confirm the purchase and tell us who you'd like it signed to, your autograph will be mailed to you!
Join ten flower friends for a night of excitement that mixes a little math with a lot of magic. As each flower turns into a butterfly, children will discover different ways to group numbers to create ten, an essential building block of math, all while watching each flower's dream come true, and culminating in the lesson that being ourselves is best of all.
I wish I could send an autograph to everyone who pre-orders Ten Magic Butterflies, but… I have a good feeling about *your* chances. 🙂
XO
Danica
*Pre-ordering 3 or more copies guarantees winning an autograph and signed "magic butterfly" only if all the rules (#1-4) are fully followed on this page, and as long as the US mail cooperates. 🙂 And if you've already pre-ordered a copy and want to order 2 more, just make sure you email us from the same address, and we'll know you ordered 3 copies!